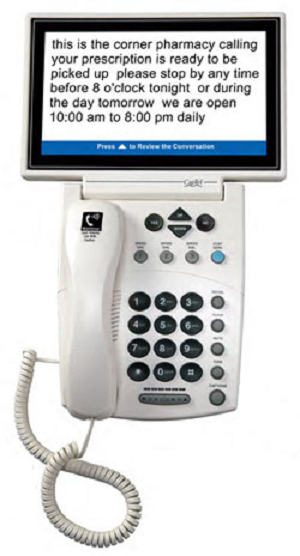 • Captions appear automatically on all calls - incoming and outgoing. No need for callers to dial through the Captioning Service.
• Wi-Fi compatible to position anywhere within your wireless network range Captions can be turned on or off at any time in a call.
• Built-in Answering Machine takes voice messages with captions Large, easy-to-read captions window with adjustable font sizes and colors.
• Display screen tilts for comfortable reading or lies flat to mount the phone on a wall.
• Adjustable volume control (up to 40dB gain) for captioned calls. 
• Volume button is easy to see and adjust during a call. 
• One-touch access to CapTel Customer Service (speed dial button automatically connects you to CapTel Help Line). 
• Easy-to-follow menu system with Yes/No questions. 
• Phone Book allows you to easily store and dial more than 95 names/phone numbers. 
• Speed dial keys for one-touch dialing of frequently called numbers. 
• Caller-ID capable - shows you who is calling directly on display screen.
• Captions available on calls within the United States only.
 
Click Here to Watch Helpful How-to Videos
User Manual / Other Files
3